Top Features
Discounts & Deals
Services
Discounts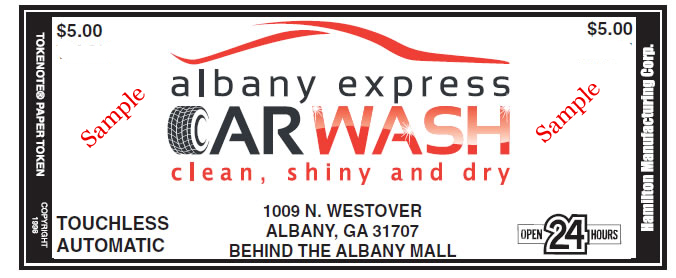 Get $5.00 Tokenotes for $4.00!
Exclusive Online Offer
Tokenotes can be used in our Touchless Automatic Bays instead of using cash. Our automated terminals will accept your tokenotes just like currency. You may use multiple tokenotes to trade up to the Deluxe, Ultimate or Clean, Shiny & Dry Wash Packages.
Tokenotes can also be given away to your friends, family, employees or clients for Christmas gifts, birthdays, special occasions, or as special bonuses. The advantage of using tokenotes is that they never expire and will always be put to good use any time of the year.
Albany Express Car Wash uses LittleAfrica.com as a means for selling Tokenotes on this website. We accept Visa, MasterCard, American Express and Paypal. Once your order has been placed, we will either mail your tokenotes or you can pick them up at Albany Express Car Wash.
$4.00